The Game Lab has limited space and is currently full.
Please try again in a few minutes.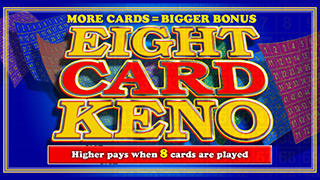 A natural evolution for keno. Just like Triple Play Poker gave more action and excitement to video poker players, Eight Card brings a new level of thrills to traditional four card keno. And when you play all 8 cards, you get an enhanced paytable! Play 1 coin on each of 4 cards up to 4 credits on eight cards.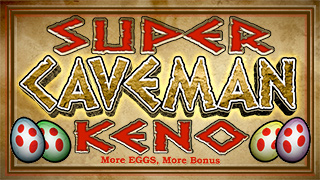 Updated 7/29/20 - Super Caveman Keno is a fresh new version of the original Caveman Keno. This game has a paid bonus that includes 4 eggs versus the original's 3. With 4 eggs, the bonus frequency is improved from one in 6.55 hands to one in 3.86 hands. The base paytable has been sweetened in several areas including a 2000 credit win for 6 out of 6. It also provides increased bonus multipliers of 2X, 6X and 12X versus the original's 4X and 10X. More eggs, a better paytable and bigger multipliers make this game more fun than a shrieking pterodactyl!