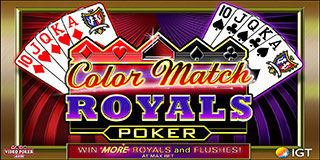 Game Tips:
Color Match Royals is a new game coming soon to casinos with payouts for "color-matched" flushes, straight flushes and royal flushes. This allows you to mix red and black cards for great new flush payouts.
We've compiled a few of the most important strategies for this game to help get you started. With these few tips, you'll be able to jump right in for a more fun and successful experience.
Try these tips for fun on VideoPoker.com and you'll be ready for the real thing when this game comes to a casino near you.
Tip #1 – Hold four to a Flush
If you have four red or four black cards, you should hold all four cards to take advantage of the new "Red Flush" and "Black Flush" payouts with a return of 20 credits. This is a smart hold in a situation you will see often.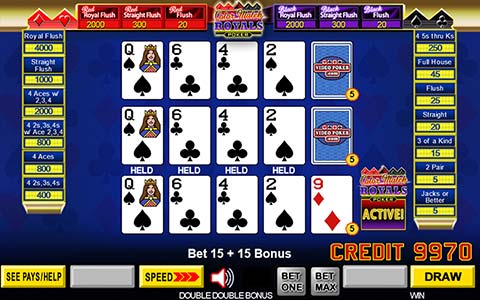 Don't miss out on these 4 color-matched cards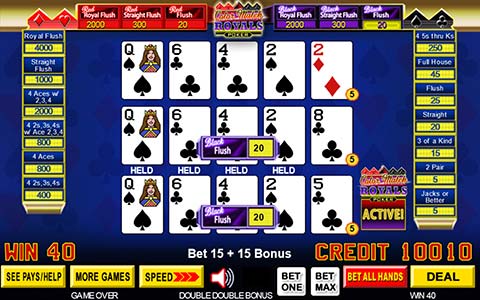 A red or black Flush pays 20
Tip #2: Hold three to a Flush, too! (unless you also have a winning pair)
With 5 cards on the deal and only 2 colors of cards, you will ALWAYS have at least 3 cards of the same color... which means you will NEVER throw away your entire hand! Hold three of the same color, unless you have a winning pair or better. The opportunities that open up with a winning pair will give you a slight edge over the Flush hold.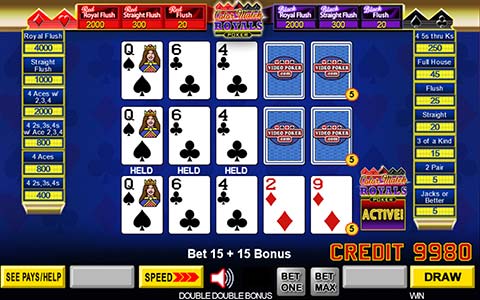 There is ALWAYS something worth holding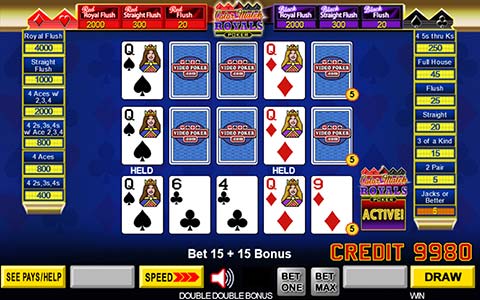 Keep a winning hand over 3 to a Flush
Tip #3: Hold a dealt Flush unless you have 4 to the Straight Flush or Royal.
It might be hard to pass up a win of 20 per line, but a color-matched Straight or Royal Flush pays even better – enough to dump that 5th card and go for the bigger returns. Plus, even if you miss the Straight Flush, you will have plenty of red or black cards remaining to get back some of those flushes you decided to take a chance on.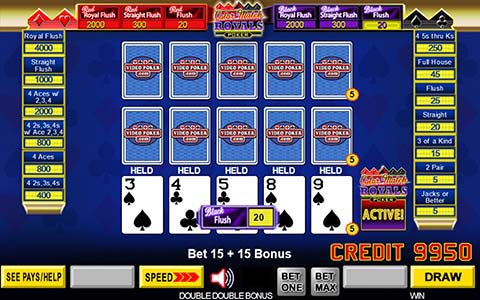 When dealt a Flush, take it....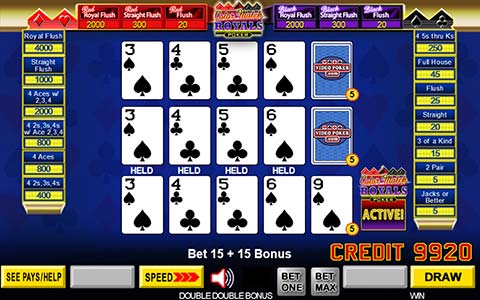 ...unless you have 4 to a Straight Flush or Royal
There will of course be some exceptions to these rules and you will discover more strategies as you immerse yourself in this exciting new game, but by following these three simple tips, you will be well on your way to being a better Color Match Poker player.


To improve your play even more, Color Match Royals is available with our exclusive
Gold Training for GOLD Members.