Welcome to Pro Training
A comprehensive set of training tools that will make you a better video poker player.
Benefits include:
Personalized training while playing your favorites on VideoPoker.com
Use Pro Training on your computer, iPad or Android tablet
More than 30 games, including Ultimate X Poker
Track your performance and improvement over time
Automatic updates when new games and features are released
Select a tab to the left to view features.
Game Configuration
Set up your game to match what you play in casinos. You pick the game, pay table, bet denomination, and bankroll amount. You can also choose to have randomly selected hands or select a difficulty. Save your favorite game configurations to your Favorites for easy access in future Pro Training sessions.
1. Set up your game to match what you prefer to play in casinos
You pick the game, pay table, bet denomination, and bankroll amount.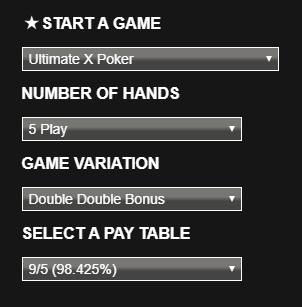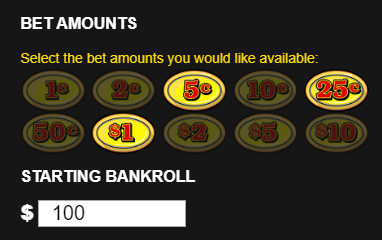 2. Choose the type of hands you would like to practice
Play entirely random hands like the casino, or choose a difficulty to practice a specific range of hands.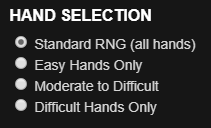 3. Save your favorite game configurations
Easy access for future Pro Training sessions.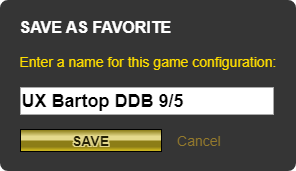 Expected Value Tables
The Expected Value (EV) of every hold possibility is calculated and the top 8 are displayed in real time adjacent to your game. This gives you immediate feedback to know whether you have made the optimal hold.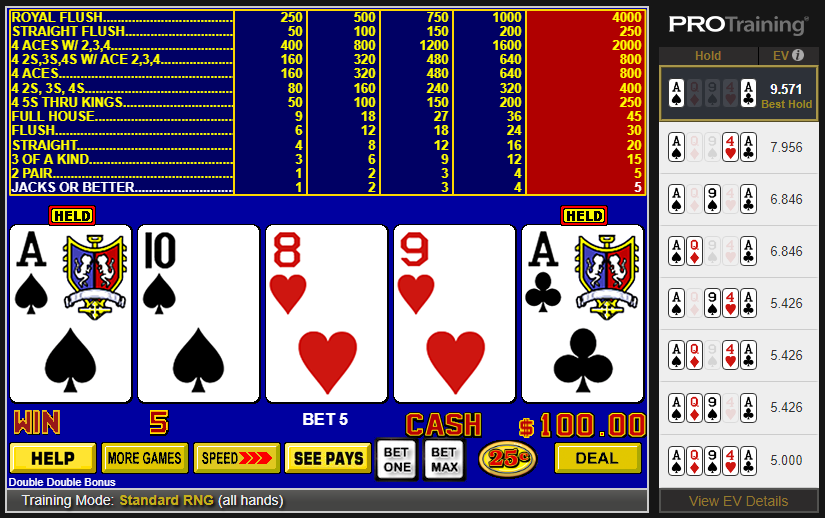 Looking for more detail? Click View EV Details below the hold chart to see a complete breakdown of the Expected Value by win type.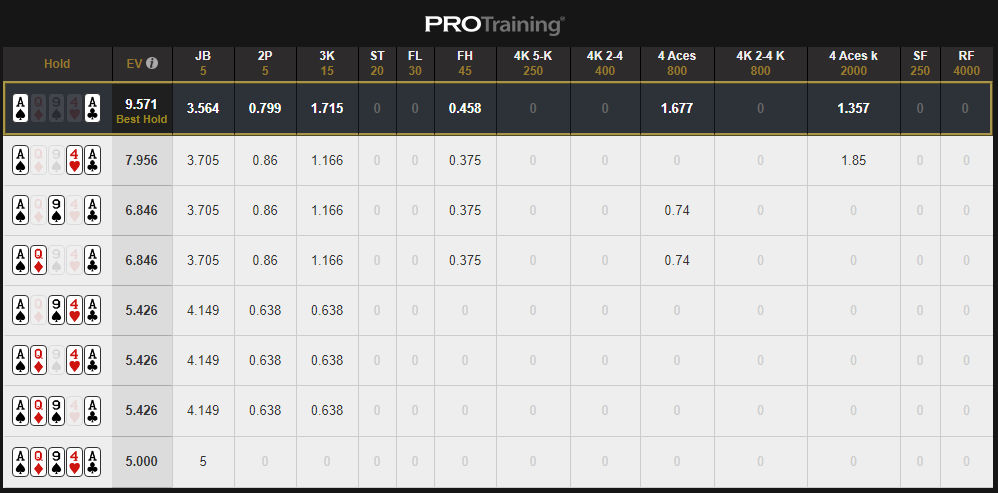 Training Types
Select from TEST – which reveals the correct hold only after you've made your hold selection,
or COACH – which shows the correct holds as soon as the cards are dealt.
Select your Training Type below the game area: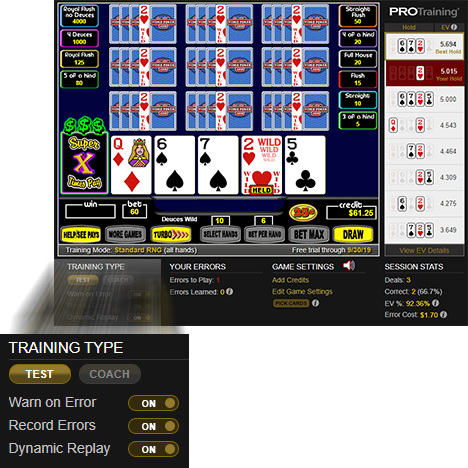 TEST – Reveal the correct hold only after you've made your hold selection, or
COACH – Show the correct hold as soon as the cards are dealt
Additional options include:
Warn on Error: After making an incorrect hold, this setting will allow you to correct the hold before the draw.
Record Errors: We'll save your errors so you can replay them in the future.
Dynamic Replay: We'll occasionally mix in hands that you have missed, to help you learn the correct hold.
Replay Your Errors
Errors are recorded as you train. Later, you can replay just the hands you have missed previously, or have your errors mixed in as you train with our Dynamic Replay feature! This challenges you to correct the mistakes you've made in the past and become a better player.  You can even print out a list of your errors to study offline.
There are two ways you can replay the hands you have missed previously:
1. Replay Your Errors
When starting a new session, choose to focus on past mistakes by selecting Replay Your Errors. Pro Training will deal you only hands that you have made a mistake on in the past, track your progress, and remove them from your list of errors once you have learned to play them correctly! Click Print to print a list of your errors to study offline.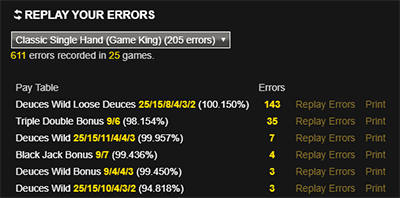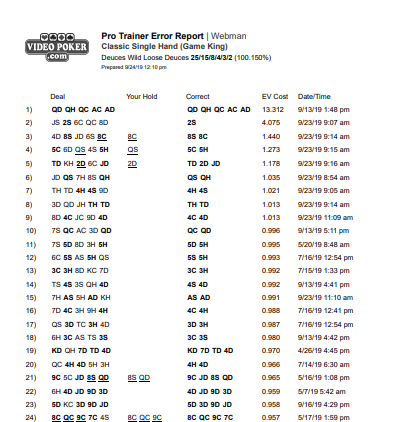 2. Dynamic Replay
In a standard training session, enable Dynamic Replay to have your errors mixed in while you play - allowing you to keep playing new hands while also learning from your past mistakes.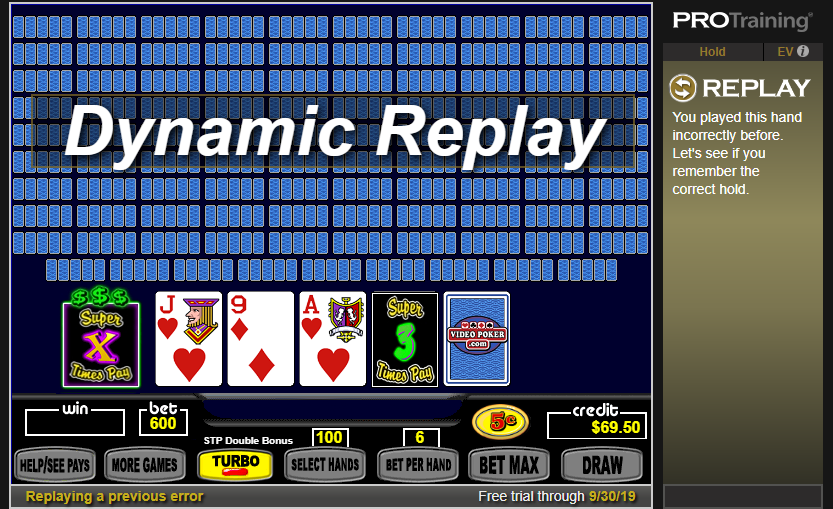 Dashboard and Statistics
Has your play improved over time? The Pro Training Dashboard displays your hold and return accuracy, profit and loss stats, and can be filtered by games and pay tables. The Training Statistics page provides additional information such as how many errors you've learned to play correctly in each game.
Visit the Pro Training Dashboard to view your performance. Hover over the graph for a detailed breakdown of your play on a particular game/day.


The Training Statistics page will give you a list of all games you have trained in, with easy to access to play again or replay your errors.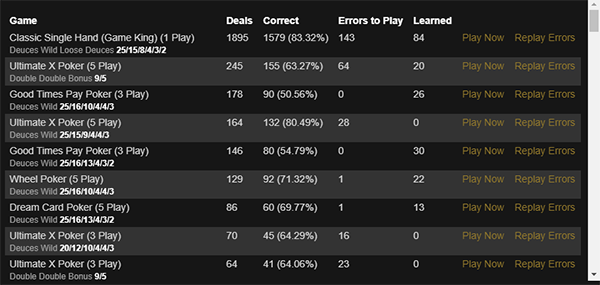 Ask the Experts
Your opportunity to ask video poker strategy questions from our panel of experts. Top questions and answers from other players are also displayed.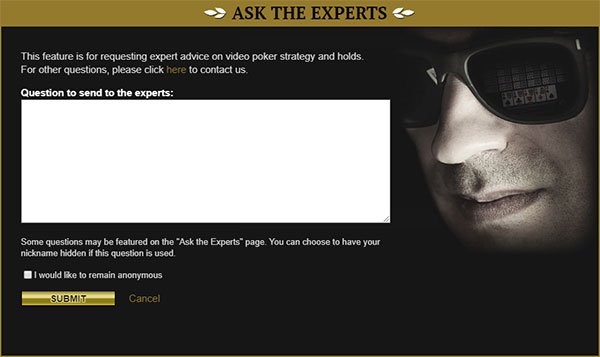 Pro Enabled Games
The following games are currently enabled for Pro Training:
Classic Single Hand (Game King)
Build a Wheel Poker
Color Match Royals Poker
Deal Draw Poker
Double Pay Poker (SH)
Double Super Times Pay Poker
Double Super Times Pay Poker (SH)
Draw Poker with Dream Card
Draw Poker with Dream Card (SH)
Dream Card Poker
Extra Action Poker
Fifty Play Draw Poker
Fifty Play with Quick Quads
Fifty Play with Super Times Pay
Five Play Draw Poker
Good Times Pay Poker
Good Times Pay Poker (SH)
Hundred Play Draw Poker
Hundred Play with Quick Quads
Hundred Play with Super Times Pay
Quick Quads Poker
Quick Quads Poker (SH)
Spin Poker
Spin Poker Deluxe
Spin Poker with Dream Card
Stack 'Em High Poker
Super Times Pay Poker
Super Times Pay Poker (SH)
Super Triple Play Jackpots
Super Triple Play Poker
Ten Play Draw Poker
Triple Play Draw Poker
Triple Spin Poker
Twenty Five Play Draw Poker
Twenty Five Play Super Times Pay
Ultimate X Poker
Wheel Poker
Answers to Some Common Questions
Is there a way to quickly change the pay table or game type while I am playing?
Below the game, under Game Settings, click Edit Game Settings to reconfigure your current game build. This will begin a new session since stats are recorded based on your game settings.
How do I change my view from Credits to Cash?
Just like in the casino, you can click on the credit or cash total in the game to toggle between the two views.
How do I change my bet denomination?
When you start a session, you choose the denominations you would like available within the game. Once you have started playing, click on the denomination icon (25 cents, 1 dollar, etc.) or visit the More Games screen to switch to another available denomination. If you would like to change to a denomination that you didn't originally include in the game, click Edit Game Settings to reconfigure the game with more options.
Are strategies different for different games?
As long as you are playing the same pay table and game type (such as 9/6 Double Double Bonus), the strategy will be the same across most games. For example, there is no strategy difference between Single Hand, Triple Play, and Super Times Pay for the same pay table. However, in games with different payouts for some categories or where a bonus feature is triggered by a resulting hand, strategies do change. Games with differing strategies in Pro Training currently include: Ultimate X Poker, Color Match Royals, Quick Quads Poker and its variations, Super Triple Play, and Wheel Poker.
Is strategy different based on the number of coins bet?
It is important to note that Pro Training will always use strategies and Expected Value based on Max Bet, even if you bet fewer coins. If playing single coin in a casino, there would be some strategy changes, mainly due to the reduced Royal Flush payout. You can still play with single coins in Pro Training, however the strategy will be based on Max Bet.
Why is Expected Value (EV) so different in Ultimate X Poker? How is it calculated?
In most games, the Expected Value (EV) represents the average return (coins won) per hand and does not include multipliers. Generally this is a consistent and easy to understand method and translates well when playing different games. In Ultimate X Poker, things get a little trickier because the total of your current multipliers actually affects the holds you should make. Additionally, the multipliers you EARN on a hand are part of the value won (your next hand will be multiplied). Because of this, Expected Value (EV) in Ultimate X Poker represents the TOTAL return (coins won) of the entire board (including multipliers) PLUS an additional Multiplier Expected Value (which we are calling XEV) from the multipliers earned towards your next hand. Sound complicated? That's because it is!
Ultimate X Poker is incredibly hard to master. How can I improve my play in this game?
While it may be difficult to play this game 100% correctly - due to the fact that holds change based on a wide range of multiplier combinations - most players can quickly benefit from playing this game in Pro Training and learn some important holds that are often played incorrectly. In many cases, these hold changes are due to the value earned through multipliers for the following hand (earning a 12X for a full house or 10X for a flush is incredibly valuable). Just a few minutes a day in Pro Training could improve many players' Ultimate X Poker returns substantially. Also realize that just because you may not make the very best hold, that doesn't mean you aren't improving. By making a better hold than you did the first time, you are improving your return on the game. For best results, we recommend playing this game with Dynamic Replay enabled to revisit the errors you have made and learn them more quickly.
Why do the multipliers in Ultimate X sometimes not operate correctly?
When replaying a hand in Ultimate X Poker, the multipliers will match your recorded error hand rather than the multipliers earned in the game on the previous hand. This pertains to both Dynamic Replay hands as well as when replaying only your errors. This is necessary because the strategy for the hand being replayed in Ultimate X is based on both the cards and the multipliers present. As a result, Ultimate X Poker will perform somewhat differently when replays are enabled.
Can I pick my cards in Pro Training?
Yes, there's a Pick button below the game under Game Settings if you would like to check the correct hold for a specific hand. This feature is not available in Replay Your Errors mode.